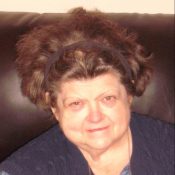 Carolyn Womack, KC5OZT
It is with great sadness that we share with you that Carolyn Womack, KC5OZT, lost her battle with cancer and that her key has fallen silent.
She has served as a Section Traffic Manager, a Central Area Net manager, and more… she was heavily involved with the DFW Metroplex Traffic Net, the 7290 Traffic Net, and other nets… and she shined with her willingness to help and her friendliness, always, both on and off the air.
Funeral services were held Saturday May 11 at 10:00am at Old Hall Cemetery in Lewisville. Her family requests memorial contributions be made to the Northview Baptist Church Building Fund.
Please keep her family in your thoughts and prayers.
The DFW Metroplex Traffic Net is a local affiliate of the ARRL's National Traffic System. Our purposes are to move NTS radiogram traffic into and out of the Dallas/Fort Worth area through the NTS, and to provide training for amateurs interested in traffic handling. All licensed amateur stations are welcome and encouraged to participate.

Find us on the air!
We meet twice daily
The early session meets on WA5CKF on the first Tuesday of each month, or when preempted by Dallas RACES nets.